Online Competitive Threat Analysis

Find Out How Your Business Performs Online Against Your Main Competitors!
When embarking upon an effort to improve your SERP (search engine results page) listings through an online marketing campaign, it's extremely helpful to start with an objective and quantifiable benchmark from which you can measure progress as you make improvements over time. The 111 Web Studio online competitive threat analysis measures your web site against your major competitors so you can not only see how your online profile compares to theirs, but more importantly what digital marketing steps you can take to separate yourself from the pack and raise your profile above theirs.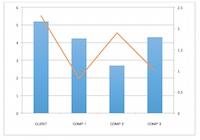 Our competitive threat analysis generates a Benchmark SCOR (Strategic Competitive Online Result) which compares you and your competitors in as many as eight critical areas of study, as well as an SEV (Search Engine Visibility) Report. This produces a well rounded snapshot that highlights the strengths and weaknesses of each online presence and generates a prioritized list of action items that will be used to make improvements and raise your site's position on search engine listings.
An initial Benchmark SCOR and SEV are developed through our Phase I Analysis which also provides the action items needed for improving your online marketing efforts. We may or may not recommend additional Phase II Analysis work to fully detail your SCOR. If recommended, a Phase II Analysis may investigate new areas of concern uncovered in Phase I and / or may dive deeper into an area already covered. It may also investigate additional competition if necessary. Because each client will need a different level of study, the time required for a Phase II analysis will differ from client to client. We can also follow-up with Assessment SCOR and SEV Analyses which are done some time after Benchmarking recommendations have been implemented and search engines have had a chance to react to the changes. The Assessment SCOR and SEV Analyses not only have the benefit of measuring improvements in your own online profile, but also defines any changes made by your competitors over time.
If you think an Online Competitive Threat Analysis would benefit your business and would like to know more about it, please give us a call at 877.397.7605 or contact 111 Web Studio for more information.

Posted on 03/17/2015 9:07 AM by Customer Service